Release Date Announcement!
It's been a busy month, but we're thrilled to announce our release date of February 12th. We were hoping to have everything finished by the end of January, but we needed a little more time to make sure we give you the best experience possible at release. The biggest time sink has been getting meaningful daily dialogs written for all of the characters, and that's the main thing we're still finishing up. Sorry to disappoint everyone with the slight delay, but it'll be worth it!
If you've already purchased Verdant Skies through our Humble Bundle widget, thank you! Your key will arrive a few days before launch so you can pre-load the game on your computer. It will unlock when it's live on Steam!
New Website and Wiki
We've upgraded our website with a cleaner look and more intuitive interactions. It's one of those things you do when your game is about to be released! Thanks to the folks over at Gamepedia, we also have a wiki: https://verdantskies.gamepedia.com/ They're already filling it in, so if you're worried about spoilers, don't browse too deeply!
We just started a discussion forum on Steam. If you've got questions or comments, that's a great place to ask: http://steamcommunity.com/app/730050/discussions/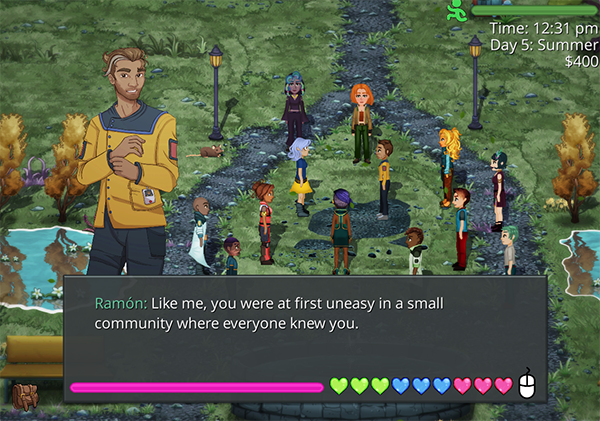 Mountain Crops
The mountain crops are the most challenging to grow, since they require unlocking the mountain region and having the tier 3 tools. But the more difficult crops have a higher base price, and having access to all 14 crops will allow you to make the most complex recipes that restore the most energy.
Pair Events and Other Romances
We've been writing events that occur between two characters once you've reached a certain friendship level with both of them. These have been a lot of fun to write, since the player gets to see their differing personality traits interact. Not all of these events are romantic, but if you're not dating either of those characters, they might start expressing interest in eachother!
Followup Dialog
To make the characters seem even more alive, certain events have followup dialog. Especially useful when an event didn't include the player, the followups allow the NPC to confide with the player and share some extra details about the person they were just talking to.
End Game Content
In addition to the blueprints you can unlock through the Planetary Pioneer blueprint system, there are some even more advanced blueprints to unlock through character events. They're tough to make, but offer some nice boosts once you've established yourself in the colony.
Finalized Sprites
In the last newsletter we showed you a few stills from our new NPC animations. Here's the full lineup of colonists on Viridis Primus! You've met most of them, but there's a few we just didn't have time to introduce.
Introducing Nessa Collins
Nessa Collins can be found flitting about her laboratory intensely studying samples from her menagerie. A talented zoologist with an interest in cloning, Nessa will help you improve the quality of your livestock products.